Pattern Writing in a Hurry, Quilting Friends Podcast #82
Hello my quilting friends! It's been a week of detailed quilt planning and writing so this podcast episode is just a short chat. Enjoy the episode and watch as I organize the little drawers of a cute apothecary cabinet:
You can also listen to the podcast or downloaded it using this player:
Quick links to fun quilting things mentioned in this podcast:
Busy Writing the Friendship Quilt Along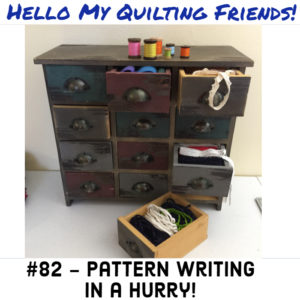 As soon as I finished printing the last batch of Ms. Bunny sewing patterns, I turned my attention 100% over to the new Friendship Quilt Along! So many of you liked the idea of starting in December that I decided to double down on my efforts to make that happen!
I'm hoping to release the first block pattern along with resizing information so you can make any sized quilt you like just by making more Friendship blocks. I'm working on the materials lists for crib, throw, twin, queen, and king sized quilts made from the blocks.
This is a LOT of work and a LOT of quilt math. Thankfully I've created some helpful quilting calculators, but this is still highly focused, detailed work that I get obsessive about getting perfect. I recorded this podcast after several hours of focused editing and writing. I love having the excuse to pack away my lace collection into the drawers of a new apothecary cabinet and relax.
Heading to International Quilt Festival
I've been to quilt market many times, but tomorrow I'll be going to international quilt Festival for the first time. If you are going to International Quilt Festival, make sure to come see me on November 8th and 9th in Grace Company's booth! I'm really looking forward to demonstrating, meeting my quilting friends (that means YOU!) in person and trying out Grace Company's new 19 inch longarm!
More progress on Mally the Maker Book Two
Yes I am already working on the second book in the Mally the Maker series! This past week I finally worked my way out of a stuck spot. I was trying to write via dictation and just found it created a lot more editing than I was used to.
I returned to the habits and methods that worked great for book one, and I'm very pleased with the results so far I'm already at chapter 5 in book two and hope to have the rough draft of the text done by Christmas. If I play my cards right we might have two Mally the Maker books out in 2019!
Dying on Your Own Sword
Gary Vaynerchuk is one of my favorite entrepreneurs and motivational speakers, but the phrase "dying on your own sword" might sound bad I if you've never heard it before.
Basically the idea is it's better to try and fail is better than to not try at all. The same thing goes for living the life that other people want you to live versus the one that you want for yourself.
My word for the year has been challenge, and I feel like I have steadily risen to that challenge all year. I have a few more challenges to tackle and getting this first pattern for the Friendship Sampler Quilt Along is definitely one of them.
That's it for this week! I'm sorry these podcast episodes have been a lot less topical than usual, but as you can tell working on this quilt along is forcing me to prioritize very carefully and sometimes that means a little bit less sharing in the podcast so we can have a fantastic project to work together through all next year.
I'm really excited about sharing this with you and I hope that you will plan to join in the fun! More details on the Friendship Sampler Quilt Along are to come!
Click Here to find more episodes of the Hello My Quilting Friends Podcast.
Let's go quilt,
Leah day