Happy Halloween from a Flower Girl Pirate!
It's Halloween, which means I have a terrific excuse to pull out my Flower Girl mask!  James and I dressed up and hit the streets this evening as the scary masked guy from Scream and a Flower Girl… pirate? I was kind of a mash up of several different things at once, but it worked out pretty good!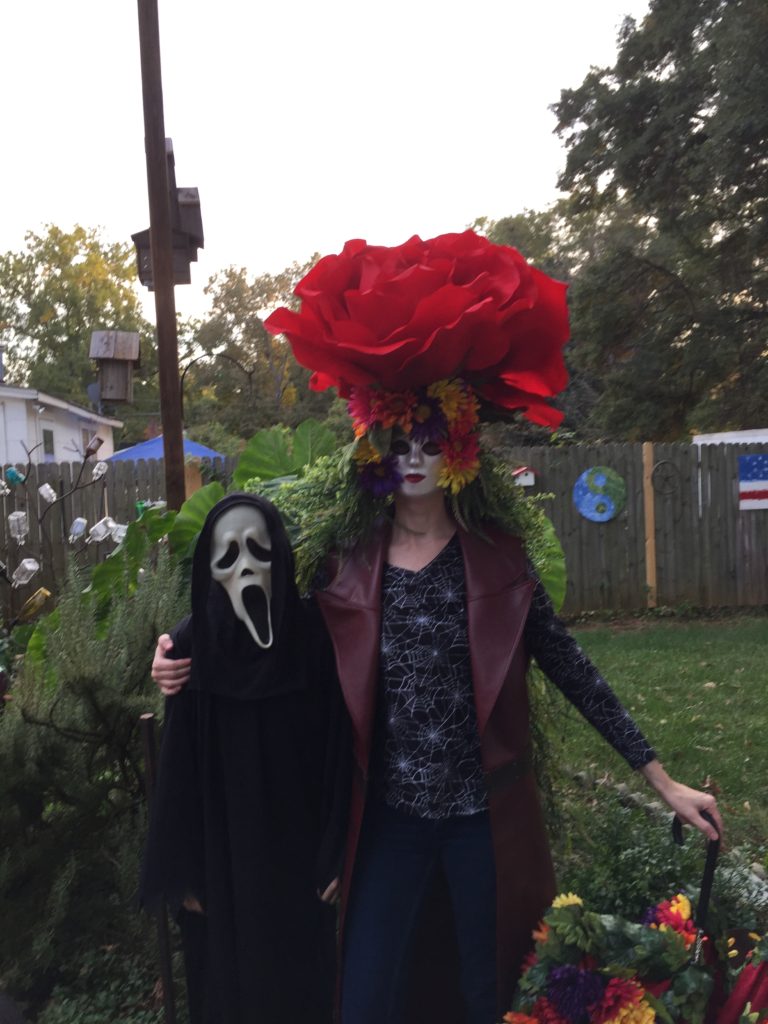 Unfortunately we've had a really bad stomach flu running through our house and Josh came down with it right before we left to trick-or-treat. This is the first year he's missed out on the fun and we really missed walking around the block together.
What ARE You Exactly?
Flower Girl was a big hit tonight, even though most people don't really get the mask. A lot of people wanted to give me candy! LOL! I need to check out more festivals and indoor events to pull out this costume. It's so much fun to wear and I love wearing a full face mask. There's something nice about not having to talk or smile if I don't feel like it.
There's also something  slightly creepy / mysterious about my face not changing expression. Lots of little kids stare and stare, waiting for a smile. It's probably even more confusing because they can hear me laughing under the mask.
James had fun, though I think we're nearly at the age when we need to give out candy rather than collect it. It's crazy how fast these years have gone by, and now we're in November and this year is nearly done too.
I hope you had a very Happy Halloween! Are you looking forward to Thanksgiving and the holiday season that's now right around the corner?
I'm definitely looking forward to roast turkey and brisket and all the fun sides we make for Thanksgiving. I'm really looking forward to pulling out the Leaf Peepers Quilt to decorate too!
Happy Halloween,
Leah Day