Hand Quilting and Reenacting at Hart Square, Podcast #81
Hello my quilting friends! This weekend I went to Hart Square Festival, a special event held one day a year. I dressed up in a (somewhat) period costume and enjoyed hand quilting all day in a log cabin originally built in 1840. Hear more about this amazing adventure and see the pieces of my costume I made in this week's podcast!
You can also listen to the podcast or download this episode to your computer using this player:
Quick links to all the fun things I mentioned in this podcast:
It's the last day to preorder Mally the Maker and the Queen in the Quilt and get your copy signed! Click Here to check it out.
It's also the last day to preorder your Ms. Bunny sewing pattern. This doll is a character from the book and will make the perfect gift for anyone needing a special friend. Click Here to find Ms. Bunny.
Make sure to check out the Chakra Wall Hanging Tutorial right here.
The Amazing World of Hart Square
I first learned about Hart Square this time last year. This is truly a hidden gem of North Carolina and it's only one hour away from my house! Basically this is the largest collection of historically preserved log cabins in America. What makes each cabin unique is they have all been beautifully furnished with tools, furniture, dishes, clothing, and housewares that people would have used daily in the 1800s.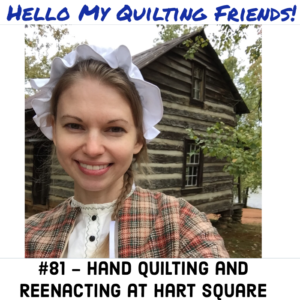 This also means quilts and quilting frames! The log cabin I was demonstrating in had three quilting frames. A small baby quilt frame tucked in a corner that was built in 1800. Another was a mounted to the ceiling with bolts. The legs were hung on one wall so if you had a mind, you could take the quilt down, attach the legs, and begin quilting.
The third frame was the one I was working on with four wonderful women. On this frame is a hand pieced Double Irish Chain quilt with a thick polyester batting. Together we quilted a simple cross hatched quilting design from point to point over the white and red squares.
And we weren't the only ones demonstrating! On Festival, hundreds of artists and crafts people come to demonstrate weaving, cider pressin, spinning, gunsmithing, printmaking, firing pottery, working a cotton gin, smoking meat, firing cannons, and more. I didn't get a chance to check out any of the other cabins or demonstrators, but I know it was a fabulous variety of skills on display that day.
Hand Quilting for the First Time for REAL
I showed up in costume, carrying fabric, needles, scissors, and a snack in my super sized, freshly pieced pockets. Settling into a seat at the frame, I felt a bit nervous because I have never really hand quilted before. At least not this style of hand quilting with tiny, consistent stitches. I've done big stitch hand quilting and lots of embellishment, but this was my very first time quilting a traditional, hand pieced quilt in the traditional way.
The wonderful women I shared the frame with were from the Cabarrus Quilter's Guild and immediately made me feel welcome and at ease. We traded needles and took a good look at the quilt, which only gets attention on this one day of the year. Unfortunately some of the lines of quilting were a bit crooked and we made a few… ahem… corrections throughout the day. It's surprisingly easy to veer off a straight line when quilting by hand!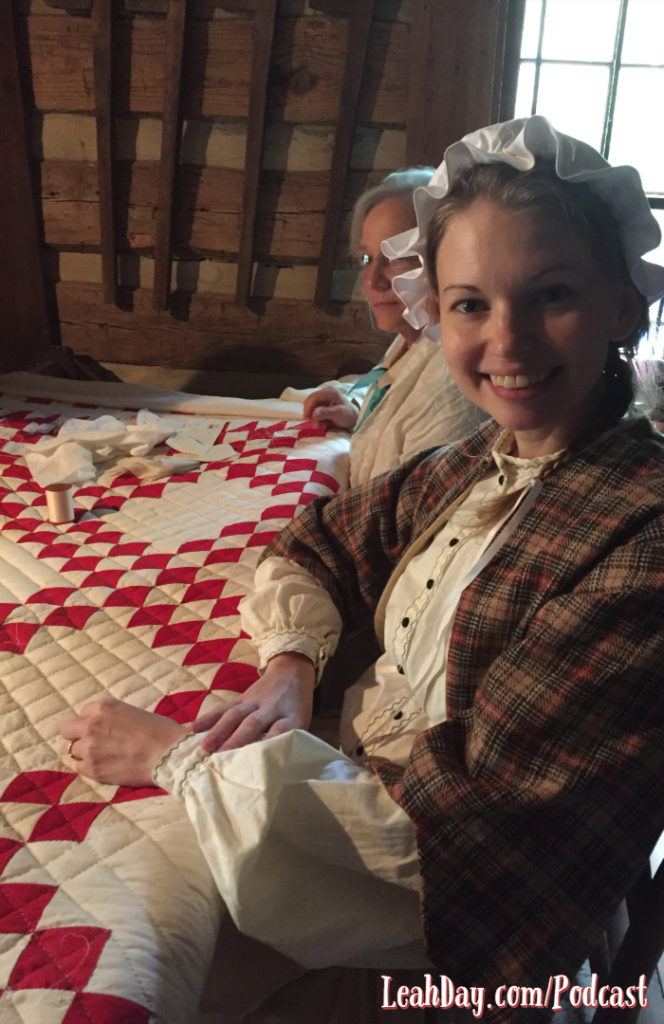 I got started and began with a stab stitch: I inserted the needle to make a small stitch, then pulled it out from the back side of the quilt with my right hand, flipped it over and sent it back to the front. I tried, but simply couldn't do a rock stitch thanks to the very fluffy polyester batting in  the middle.
Yes, polyester batting! It's funny the things that get picked for a historical reenactment. We all complained about the batting, but later I learned a previous quilt used for demonstrations at Hart Square had been cotton, but had huge cotton seeds and detritus still embedded in the middle that would hit your needle and cause all sorts of problems for the quilter's stitches. Once I learned that, I understood why they decided to use polyester for this quilt – nothing to get your needle snagged on!
Quilting in the 1840s
This was honestly the most immersive quilting experience I've ever had. The log cabin had low ceilings and a stone fireplace. A steep set of steps would take you upstairs to a weaving room that the weavers unfortunately had to close because the loom had become dangerously unstable. Off to the back, this log cabin had an attached kitchen, complete with a wood burning stove, cabinets, and dishes.
Our cabin's docent, Ursula kept the fire going and occasionally we'd all have to take a break and stand by the fire to warm up. Sitting and stitching in the dim light made me very thankful for all the things we take for grated every day like central heating, bright lights, and sewing machines.
But stitching this way also made me recognize a few things we've lost. The simple camaraderie of working on a project with other women. The soft chatter of stories and small lessons hidden within each one. Our stitches weren't perfect, but together we made noticeable progress in just six short hours. It was funny how many people asked if the quilt would be done by the end of the day. It has been in progress for at least six years, and will not likely to be finished in another six!
Lessons from the Quilting Frame
This experience has made me I wonder if we've lost something important in our high tech sewing rooms. Our machines are built for one person to operate at a time and this has turned quilting from a necessary group activity into a solo achievement. I wonder if this is a good thing.
A hand quilted quilt is fundamentally different from anything I've made before. It's less about finishing the project and far more about the process – each stitch going through the layers one by one in a line. It is a collaboration between women that requires intense patience and kindness.
It's honestly hard to put into words. There was something about hand quilting around the frame that felt so relaxing and fundamentally RIGHT to me. I was sitting at the frame with four strangers, yet by the end of the day, I would call each person there a friend.
As the day wound down, I worked on cleaning up the quilt. Tying off loose thread tails (they just make me itch) and burying knots so the quilt looked clean and beautiful. It felt great to leave the quilt noticeably improved and ready for fresh quilting next year.
So that was my amazing adventure at Hart Square! I feel so blessed to have had this experience and I'm already looking forward to next year. Hart Square Festival is always the last Saturday of October so mark your calendar and plan to come!
Let's go quilt,
Leah Day